The exclusive Sicily by the chef and the motorwriter.
Wonderful villas - Food - Culture - Travel tips
Museums
Museums of Sicily
Sicily is an island with a long long history ...
From the preistoric times trough the Punics, the Greeks, the Romans, the Byzantines, the Arabs, the Normans, the Swabians, the Angevins, the Aragoneses, the Borbons ... and eventually the italians !
All of them (most of all the first of the list !) are still present in Sicily.
Take a look at the museums of the island to see if it's true !
No other region in the world shows the museums that you can find in Sicily.
Good visit.
*** The museums listed with three asterisks are those that are most worthwhile.
The museums are usually open from 9 a.m. until 4 p.m. from November to April; and from 9 a.m. until 6 p.m. from May to October.
This is just a summary. Please contact the individual museums for more information.
n.b. The phone numbers of these museums are those that were available at the time of this publication (2013).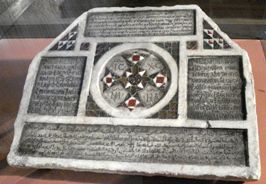 Il Console Associazione Culturale

- P.Iva 04434090876 - Via Roma, 1 - 95020 - Aci Bonaccorsi (CT) [Etna Est]