The exclusive Sicily by the chef and the motorwriter.
Wonderful villas - Food - Culture - Travel tips
The Silvanine: home food









The chef Silvana Recupero, mother of all the housewiwes chef of Sicily,




presents:

The Silvanine: Sicilian home food !

Do you want to taste a typical meal hosted by a Sicilian family ?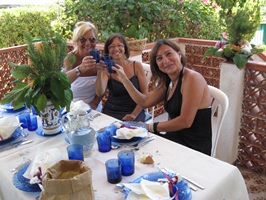 Be a guest of a Sicilian family, inside its home, eating at its table
a genuine and typical meal !
A

real

Sicilian

experience

!!!















Here there are the Silvanine, the "mini-cooks" of Sicily choosen for you by Mamma's chef Silvana Recupero !




Ask Silvana the list of Silvanine !
| | |
| --- | --- |
| | The Chef Silvana Recupero, mother of all the homewives chef of Sicily! |
This service is absolutely exclusive and has been planned by the chef Silvana Recupero that has personally "tried" the Silvanine.
Also, together with the Silvanine, Silvana has prepared the menù that is the most traditional possible, in order of the district the Silvanina lives; the house too has been carefully chosen by Silvana.
The purpose of this service is that to let feel the traveller as more "sicilian" as possible !
Il Console Associazione Culturale

- P.Iva 04434090876 - Via Roma, 1 - 95020 - Aci Bonaccorsi (CT) [Etna Est]